The Macron Stadium in Bolton played host to FCC's fifteenth event on March 5th and one of the hottest bouts on the pro card featured growing prospect Sam Spencer (3-0) and battle-tested veteran Bryan Creighton (5-4).
It was a fight in which Sam left victorious, but not one in which he came out unscathed. During the opening minutes in the first stanza, Sam got caught with a big shot from the powerhouse Creighton that left him with a badly broken jaw. This only put barriers in the way of what Spencer could utilise without putting his jaw in further risk. Throughout this gruesome alteration, Sam had to adjust his approach to the bout. He divulges,
"It was a left hook, right hook combination if I remember correctly. I've got a clip of it on my Instagram. It happened around the midway point of the first round and I knew instantly. I could feel it crunching and moving when I bit down on my gumshield.
"I told my coach it was broke at the end of the first and that I one hundred per-cent did not want to pull out. Neil Hall came over to the corner in between rounds where my coach Gavin Boardman and I told him it was just bleeding from inside my lip and it wasn't broken, so we owe him an apology for telling him a little porky pie.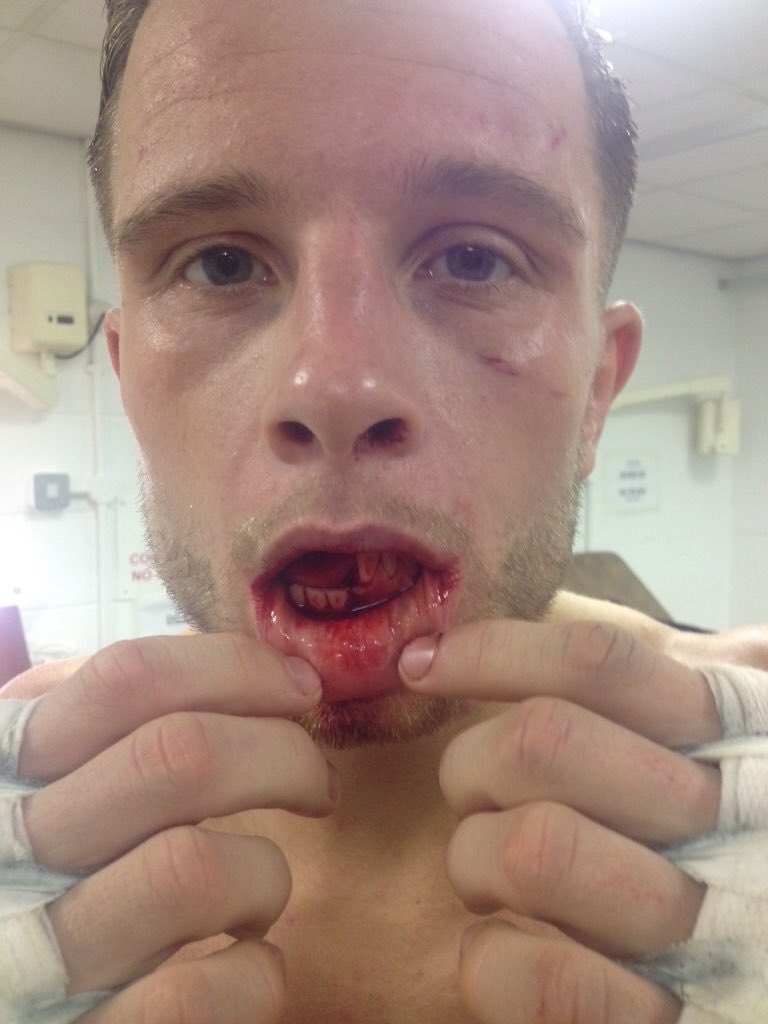 "My plan was to stay on the outside throughout and pick him apart with hard combinations and look for the finish. After the shots landed that broke my jaw I knew I couldn't risk taking any more shots, so I just stuck to jabs, lots of movement and the occasional kick to keep the range. I knew then I wasn't going to get a finish, so I just had to stay disciplined, keep my hands up and stay on the move. Luckily I enjoy that style of boxing anyway and had the reach advantage on Bryan."
In a sport such as competitive fighting, a broken jaw is a detrimental injury. After Sam's hand was raised and his mouth was inspected, in which the jaw specialist said it was one of the worst breaks they had seen, he was taken immediately to hospital to be prepped for surgery which went without fault.
Just under a week after the injury, there's still no clear idea as to when Spencer can return to competition. However, after comments from a long-time foe, he has his eyes set on an opponent.
"I'm still unsure but it's definitely three months with zero contact," Sam revealed. "After that it depends on the speed of the healing process. Hopefully I'll be fighting again before the end of the year as there's a certain fight that I really want and that's with Javonne Morrison. I've heard from four or five different people that Javonne was talking about me at FCC whilst I was fighting. He doesn't think I can wrestle, doesn't rate my footwork and still wants to fight me badly. I can't say how much of a bad fight I am for him.
"I avoided strikes, outworked Bryan for two more rounds whilst defending a guillotine all with a broken jaw. So while the iron is hot, I'd like to accept his challenge when I'm healed around the time of FCC 17. This is a fight that needs to happen now more than ever."
This was undoubtedly Sam's toughest test after going 2-0 in his previous bouts. Fighting somebody with the experience that Creighton possesses was a big challenge that Spencer relished. Spencer had only just found his feet in the professional rankings and to be stricken with such a lengthy injury is a tough hand to be dealt.
This isn't the first time Sam has been sidelined either. His amateur run had its share of plagued chapters. If experience is to teach 'Smooth' anything, it's to take it on the chin and continue on forward positively.
"I would hope that I gave a good account of myself in there," Spencer stated. "I said before the fight that I wanted some cage time and I certainly got it. Maybe next time I could get some without my mouth falling off, but its experience nonetheless. I think I'm more proud of myself for this performance than any other.
"Bryan Creighton is a serious win for me, especially in the circumstances. He obviously hits really hard and it took all of my efforts to cement the win in the judges' eyes. Bryan messaged me after the fight wishing me well and a speedy recovery, which was a nice touch. Big respect to him.
"I've been in hospital multiple times now with my collection of MMA injuries. I think I might either have brittle bones or be cursed by the MMA gods to be stupidly injury prone. Hopefully I've got them all out of the way now. Every time I've had an injury I've come back vastly improved and stronger than before. This injury is one where I will be able to train light and technically in a couple weeks, so it isn't too bad.
"I owe a big thank you to the medical staff at FCC for looking after me as well as my corner team Gav Boardman, Tony Morgan and Declan Williams for believing in me during the fight and not pulling me out. I would've been heartbroken if they did. Thank you to my mum and girlfriend, Emma, for staying with me until silly o clock in the morning the night it happened. And thank you to the staff at North Manchester hospital for their excellent care and treatment as well as to the hundreds of people who have been in touch to wish me well, I've been truly overwhelmed. I'll be back in no time."