The UK and Irish MMA Awards have been running monthly all throughout 2014. The monthly winners were entered into the yearly polls, along with a selection of the highest voted runner up wild cards. With the aim of crowning 2014's best fighters, events and finishes we put it to you to make your votes count.
On offer was the slight amount of prestige and bragging rights that the Your MMA Awards bring, but more importantly bundles from our sponsors at www.fightstorepro.com and www.jy-nutrition.co.uk.
The vores are in and the polls have been closed, and there's nothing left to do but announce the winners!
UK AND IRISH MMA AWARDS 2014 WINNERS
UK and Irish Fighter of the Year 2014

(Image via UFC on Facebook)
Conor McGregor with 45% of the vote
It couldn't be anyone else. After a lengthy period out due to a serious knee injury, Conor McGregor's return has been riveting, precise, brutal and entertaining. Though he remained in the MMA media almost daily even when he was on the sidelines, from the mid-point of 2014 the year belonged to Conor McGregor.
He brought the UFC to Dublin and it was an absolute sell-out, as well as one of the most insane atmospheres ever encountered at an MMA event. He ran through Diego Brandao, and then wasted no time in returning to the cage against highly-ranked Dustin Poirier. He scythed through the American like a hot knife through butter, coming good on all the promises he had made.
He was already a star, but 2014 saw him turn into an MMA superstar. He is your Fighter of the Year for 2014 and it wasn't even close.
Runners Up
-Steven Ray (8%) – Got his CWFC lightweight title back
-Colin Fletcher (7%) – Some entertaining wins at BAMMA
-Michael Page (7%) – Doing the business in Bellator
International Fighter of the Year 2014

(Image via UFC on Facebook)
Gunnar Nelson with 41% of the vote
Though they're polar opposites in terms of their media personas, Gunnar Nelson and his teammate Conor McGregor are alike in their quest for martial arts improvement and their focus on bettering themselves. Nelson no doubt learned a lot in 2014 – he continued his unbeaten streak with slick finishes at UFC London and UFC Dublin, whilst also suffering his first defeat in Stockholm.
He played a huge rule in the two UK and Ireland outings for Zuffa and showed his clinical submission game as soon as the opportunities arose. He's a cult favourite, a phenom, and there's legions of fans looking forward to his next outing to see how he adapts now that his zero has gone.
Like 'The Notorious', Nelson has a country enamoured, though his quiet and thoughtful reflections are much more suited to his home in Iceland.
Runners Up
Alexander Gustafsson (22%) – Topped the bill at UFC London
Falco Neto (13%) – Burst onto the scene with a vicious KO in Leeds
Joanna Jedrzejczyk (5%) – Showed her class in Cage Warriors
Event of the Year

(Image via UFC on Facebook)
UFC Dublin with 55% of the vote
It broke all sorts of records and made the UFC wonder why they left it so long to come back to Ireland. Of course they never had a McGregor before, and the crossover fame that he has brought from the MMA hardcores and the mainstream. Dublin was buzzing with anticipation on fight week and you couldn't walk ten steps without hearing or seeing something about the show.
It didn't let us down on fight night. The arena was packed, the atmosphere electric, and it felt like something very special to everybody in attendance. Seery, Pendred, Holohan and Parke all put scores on the board for the home team, and when it was time for McGregor to come into the Octagon there was a melting pot of intensity and excitement, left fulfilled by his breakout performance.
There may have been many events with bigger names across the board, but there won't have been many that delivered what UFC Dublin did.
Runners Up
Cage Warriors 69 (8%) – Huge double main card event for CWFC
BAMMA 17 (6%) – Huge success with a strong card in Manchester
UFC London (6%) – A lot of the usual faces putting on good performances
Fight of the Year

(Image via Cage Warriors / Dolly Clew)
Paul Marin vs. Andy Young at CWFC 70 with 30% of the vote
Both of these guys were known as exciting fighters, so when the matchup was announced there was no shortage of industry insiders tipping it as one to look out for. 'Air' Marin with his suplexes and improving, relentless stand-up, and Young, a tough and well-rounded battler not afraid to mix it up in any range.
What transpired what nothing short of epic. Knockdowns, slams, hard exchanges and non-stop action. It went above and beyond the expectations and you saw fit to vote in your droves to cement it as your fight of the year for 2014.
Runners Up
Brad Pickett vs. Neil Seery at UFC London (23%)
Tim Wilde vs. Damien Brown at CWFC 69 (11%)
Shaj Haque vs. Martin McDonough at CWFC 67 (6%)
Knockout of the Year

(Image via Cage Warriors / Dolly Clew)
Joe Duffy at CWFC 74 with 21% of the vote
There was some serious competition in this category but Joe Duffy's brutal knee KO over Julien Boussuge usurped the rest to get the nod as KO of the Year. Almost effortlessly and with perfect timing, Duffy threw the shot that ended the fight and turned Boussuge's lights out. It was also enough to get the UFC's attention and led to his signing a couple of weeks ago.
After years out of the sport due to his (undefeated) foray into the world of professional boxing, Duffy came back with a vengeance. Damien Lapilus proved hard to snuff out but Duffy picked his shots and waited for the right moment to finish. Then when the tough Boussuge came to town, he let rip early and ended it in violent fashion.
A true gentleman outside the cage, he'll be hoping to shake off the "last man to beat McGregor" tag that has been overused since his return by forging his own way to success inside the Octagon.
Runners Up
Conor McGregor at UFC Dublin (18%)
Jay-Ar Campos at Clan Wars 19 (15%)
Paul Daley at BAMMA 16 (12%)
Submission of the Year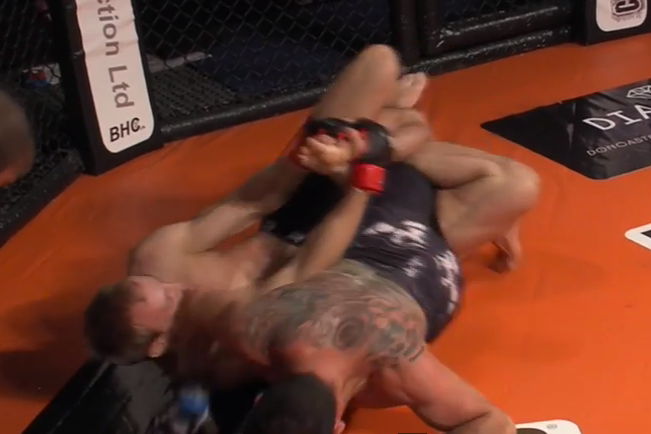 Jack Grant's calf crush at CSFC 8 with 17% of the vote
There's always plenty of talk around the rare submissions that sometimes find their way into MMA matchups. One such submission was this calf slicer from Grimsby's Jack Grant at CSFC 8 in Doncaster. Grant, known as a heavy-hitter, was controlling the experienced Georgi Stoyanov in the main event at Doncaster Dome, but instead of keeping hold of the back control he opted to go for broke and it paid dividends.
As he torqued on the knee those cageside grimaced, awaiting some sort of anatomy explosion. Fortunately for Stoyanov he managed to tap out in time to save him from any real damage, but that entry and the finish were excellent, well worthy of the Submission of the Year tag in a close category.
Runners Up
Dylan Logan's flying triangle at Akuma (15%)
Paddy Pimblett's flying triangle at CWFC 68 (13%)
Mike Grundy's D'Arce choke at BAMMA 17 (10%)
There you have it – the UK and Irish MMA Awards 2014. We'll be moving into 2015's awards in February so make sure you follow @YourMMA on Twitter and like Your MMA on Facebook.
Please also check out our sponsors Fightstore Pro and JY Nutrition.